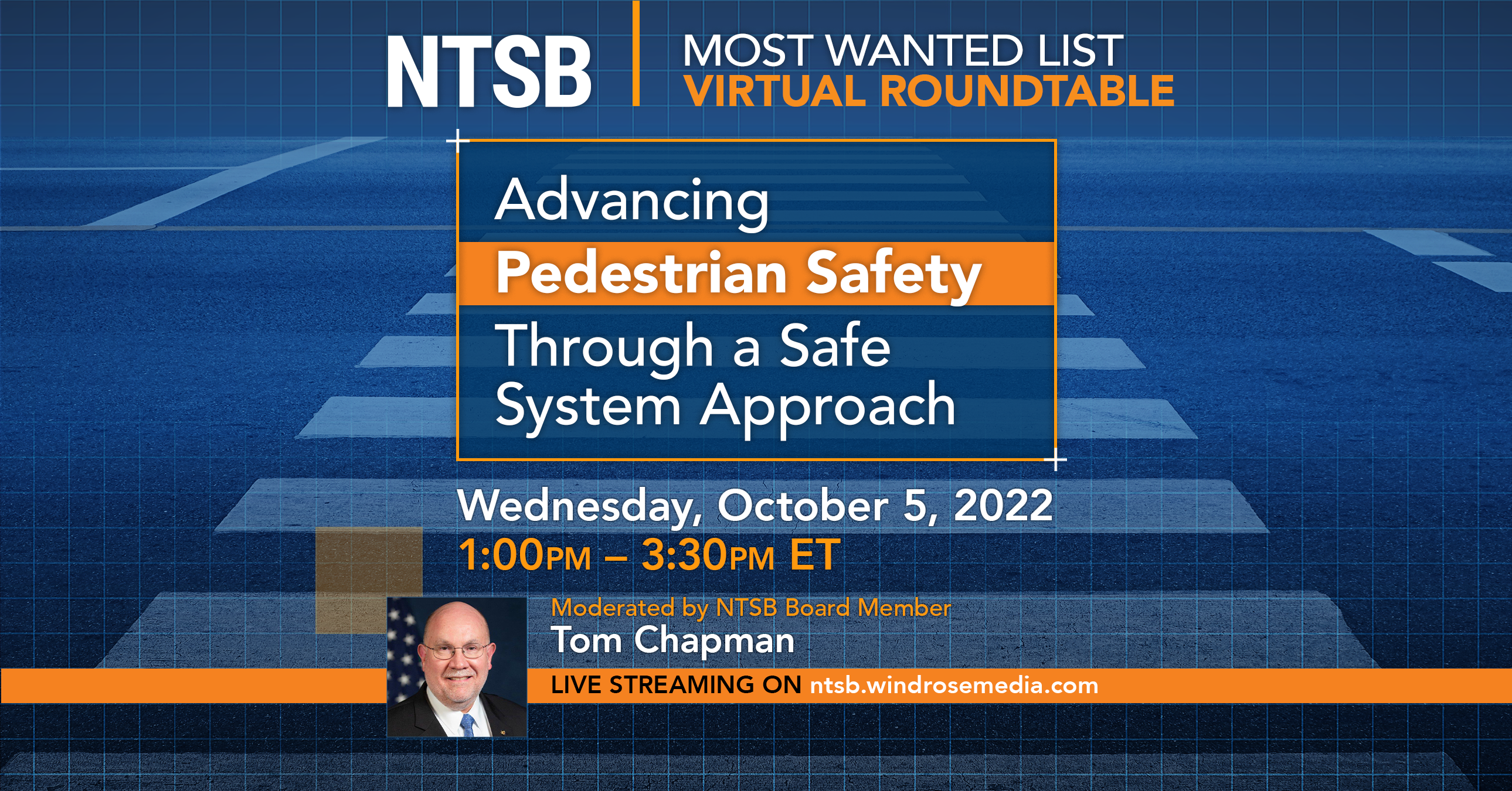 ​​​Reaching zero traffic deaths requires a shift from the traditional driver-centric approach to the integrative, shared-responsibility, Safe System Approach to prevent motor vehicle crash-related deaths and serious injuries. In recent years, many US cities have adopted policies that are rooted in, and taken steps to implement, a Safe System Approach; however, when it comes to pedestrians, deaths are increasing faster than all other traffic fatalities. The National Highway Traffic Safety Administration estimates that 13 percent more pedestrians were killed in traffic crashes in 2021 compared to 2020, when 6,516 pedestrians were killed.
On October 5, the National Transportation Safety Board will present "Advancing Pedestrian Safety Through a Safe System Approach," a roundtable moderated by NTSB Member Tom Chapman. In this roundtable, we will discuss the state of pedestrian safety; planning for a Safe System; and ideas for improving pedestrian safety through inclusive road infrastructure, vehicle design and safety technology, and the policy changes needed to implement a proactive, integrative, and shared responsibility approach to safety. We will also learn how the city of Hoboken, New Jersey, population about 60,000 people, achieved zero road fatalities.
Date: Wednesday October 5, 2022.
Time: 10:00 a.m to 12:30 p.m. Pacific Time.
If you are attending, you can click this link to register.
Agenda
1:00 – 1:10pm Welcome and Opening Remarks by Member Tom Chapman, NTSB
1:10 – 1:25pm State of Pedestrian Safety
​Ivan Cheung, PhD, Senior Advisor, Office of Member Tom Chapman, NTSB 
​​​1:25 – 1:45pm Lessons Learned from Hoboken, NJ
Ryan Sharp, PP, AICP, Director of Transportation and Parking, City of Hoboken 
​​1:45 – 2:15pm Enhancing Pedestrian Safety Through Inclusive Infrastructure Design and Planning ​
​​Kris Polan​​d, Deputy Director, NTSB Office of Highway Safety

Darr​en Buck, Pedestrian and Bicycle Program Coordinator, Federal Highway Administration 

Kay Fitz​patrick, Senior Research Engineer, Texas A&M Transportation Institute

Seth LaJeunes​se, Associate Director of Health and Community Sciences, University of North Carolina Highway Safety Research Center

Jaime Sullivan​​, Director, National Center for Rural Road Safety
2:15 – 2:​50pm Improving Pedestrian Safety Through Vehicle Design and Technology
​​K​ris Poland, Deputy Director, NTSB Office of Highway Safety

James Ellway, Technical Manager, Euro NCAP​​


Alex E​​pste​in, Safety and Sustainability Senior Engineer, U.S. DOT Volpe Center

Pau​l Scullion, Director of Safety, Alliance for Automotive Innovation

David​​​ Zuby, Executive Vice President and Chief Research Officer, Insurance Institute for Highway Safety
2:50 – 3:25pm Policy and Planning for a Safe System
Bar​b Chamberlin, Director, Director, Active Transportation Division, Washington State DOT

​​Rebecca Crowe, Transportation Specialist, Federal Highway Administration


John Mil​ton, PhD, PE, Director of Transportation Safety, Washington State DOT

​Robert J. Scheider, PhD, Professor and Chair University of Wisconsin-Milwaukee, Department of Urban Planning​​


Megan Wier, MPH, Safe Stre​ets Division Manager, City of Oakland DOT
3: 25 – 3:30pm Closi​ng Remarks by Member Tom Chapman, NTSB ​​​