Walking Tours: Post-War Architecture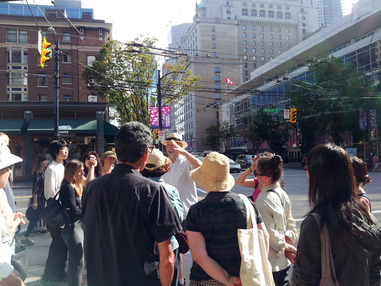 Modernist architecture is still a polarizing subject amongst historians, designers and architecture buffs. Downtown Vancouver saw a succession of architectural styles after the Second World War, some of which were lauded by the public, while others still evoke strong sentiments to the contrary. The Electra's International Style and the MacMillan Bloedel's Brutalist versions of modernism seem to clash, and the "black towers" of the Downtown core still attract uncertain sideways glances. The progressive evolution of the Bentall towers might tie them all together, right into the Post-Modern ethic. Join Maurice Guibord for a tour of these and more buildings from this period. By gaining a better understanding of their intent we attempt to appreciate what their architects were aiming for in the context of design for Vancouver.
Friday, May 8
10 am – 12 pm
Meet at Burrard and Nelson, in front of St. Andrew's-Wesley Church
Register $15 (inc. tax)
Coming Up:
May 16 – A Stream and a Ravine with John Atkin
May 22 – East Hastings (Lakewood to Renfrew) with Maurice Guibord
View all upcoming walking tours here
---
Asian Heritage Month Walking Tours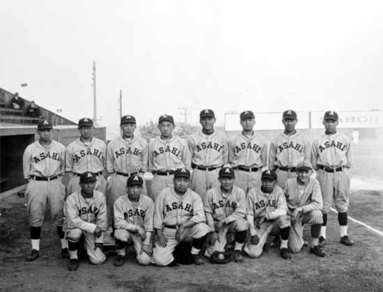 May is Asian Heritage Month! In celebration we've partnered with Citizenship and Immigration Canada to present a free walking tour of Powell St. and Chinatown. We'll explore Vancouver's historic Japanese district before making our way over to the edge of early Strathcona and into contemporary Chinatown. Along the route are the remnants of early Vancouver and the harbour industries. We'll talk about the rooming houses serving Japanese-Canadian men working at the local mills and on the docks, Oppenheimer Park, home to the championship Asahi baseball team, and the once thriving Powell Street. Please note this is the same walk offered on four dates, we request that you register to attend only once.
May 19 – May 24
FREE but registration is required.
Thank you to project partner Citizenship and Immigration Canada.
---
Heritage House Tour: The Queen Charlotte Apartments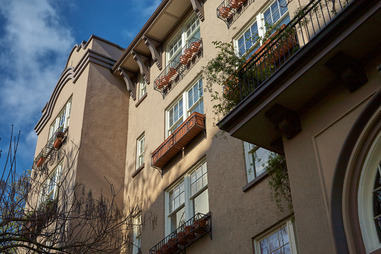 Built in 1927/28 the Queen Charlotte Apartments is an early example of the densification that would become a hallmark of the West End. As Vancouver's wealthy residents were moving to Shaughnessy, the Queen Charlotte was designed for those discerning residents who remained, offering a hotel/apartment concept with live-in manageress, housekeeping services and the latest in home convenience technology. Its remarkable Art Deco lobby with wood floors inlaid with a basket weave motif, carved stairway hand-rails and hand-painted light fixtures still remains mostly in-tact, including one of only two cage elevators remaining in the province.
This building has been lovingly cared for by a dedicated group of homeowners who have retained historic elements in each unit. We'll see four apartments, including the conversion of what was once a grand lobby space. The other three each contain elements of the original design, painting an overall portrait of the intended glamour of the building.
On June 7th, tour inside this wonderful staple of the West End, and step back to a time when the "best dressed man in Vancouver" graced its halls.
Heritage House Tour
Sunday, June 7
10 am – 5 pm
Tickets $40 or $30 with valid student ID
---
A Brief History of the Vancouver Apartment and Condo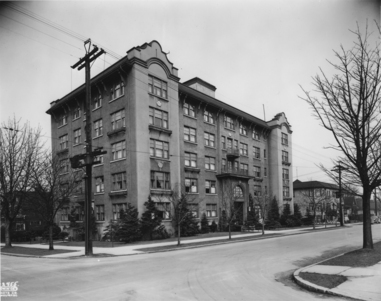 Before you tour the Queen Charlotte, learn more about early Vancouver apartments in an illustrated talk with Michael Kluckner. Take a look at Vancouver's apartment and condo history beginning with the evolution of the apartment building, from humble flats above stores to the luxurious suites of the 1920s, the walk-ups of the 1940s and the high-rises of the 1960s. Michael also explores the social changes in the city – the passage in 1966 of the Strata Title Act, as well as other forms of collective ownership of buildings – that have turned tenants into owners and investors into landlords.
---
Old School Courses and Workshops: Wood Windows Restoration and Repair
Essential for anyone who has wood windows in their home, or works with buildings that have them, this all-day course covers the construction and operation of double-hung wood windows and a full demonstration of their disassembly and repair. Learn the best practices for repairing and maintaining wood windows so they remain part of an efficient home for years to come.
6.5 core LUs AIBC, also eligible for credits through PIBC, BCAAIC, BCSLA, IDIBC and BOABC.
Saturday, May 9
9 am – 4 pm
Mission to Seafarers, 401 E Waterfront Rd.
Register Here $100
---
NEW! #HeritageReboot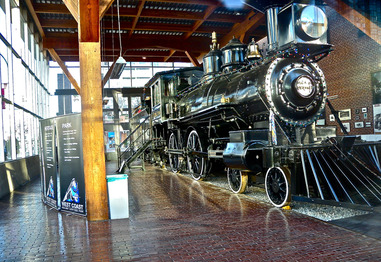 On an important anniversary in Vancouver's history, three heritage organizations and the City of Vancouver will come together to officially launch new digital tools available to learn about and explore our built heritage. May 23rd marks the 128th anniversary of the first transcontinental passenger train rolling into Vancouver, making it an auspicious date to roll out new advancements in heritage technology. There will be demonstrations of online resources created by Heritage Vancouver Society, the City of Vancouver Archives and the official launch of VHF's Heritage Site Finder.  The City will also be launching an online platform to nominate additions to the Heritage Register, the next phase of the Heritage Action Plan. Join us to interact with the new technology, enjoy walking tours of Yaletown and learn about Engine 374 from West Coast Railway. Cake and refreshments will be served. This event is free and open to all ages.
Saturday, May 23 
1 – 4:30 pm
Roundhouse Community Centre