Ian Robertson picked
this
up from Co.EXIST:
.
.
In theory, the heart of Silicon Valley—towns like Mountain View and Santa Clara—should be the ultimate place to bike. It's usually 72 degrees and sunny; it's mostly flat. But it's also a classic example of suburbia designed for cars, bisected by 10-lane freeways and extra-wide streets filled with speeding cars.
Google is hoping to help turn its home turf into something more like the bicycle paradise of Copenhagen, minus Copenhagen's snow and bracing Baltic wind. …
But after Google did everything it could to promote biking internally, from showers and changing rooms to locker space, the company realized that surrounding communities would also have to change if more people were going to start to ride.
Unsurprisingly, they tackled the problem with data. "Rather than looking at what bike infrastructure is there, they looked at the user experience, which makes sense for a successful tech company," says Colin Heyne, deputy director of the Silicon Valley Bike Coalition, which partnered with Google and Alta Planning to create Google's
Bike Vision Plan
for the area.
.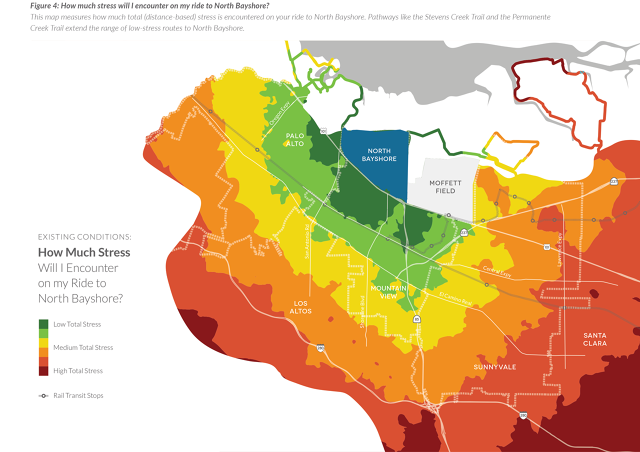 .
They looked to famously bike-friendly cities like Copenhagen for inspiration. Despite the fact that Silicon Valley was designed for life with cars—and Copenhagen had the advantages of centuries of life on a more human scale—they say that the differences aren't as big as they might appear.
"It's important to keep in mind that Copenhagen was not built for bicycles, either," says Heyne. "In the '70s, they were very much a car culture. When they put in their first pedestrian streets to go through the heart of downtown, there was a huge backlash. People weren't ready for it, and people didn't think it was going to be a success. Now that is the most prized real estate in the city."
"It was a conscious decision they made," says Poskey. "So certainly if they made that decision, we can too." …
Google plans to give $5 million in matching grants to cities in the area that want to start building out a better bike network. But even the matching grants don't come free: The money is offered as a community benefit, contingent on Mountain View's approval of Google's North Bayshore redevelopment.
"I think what needs to happen is for cities to take Google up on this challenge and start addressing those gaps in the low-stress networks, to see how well it works, and then they'll have a good model to follow," says Heyne. "And maybe that will inspire other companies, or other cities to take the same approach."