From the Vancouver Heritage Foundation:
Heritage Week 2015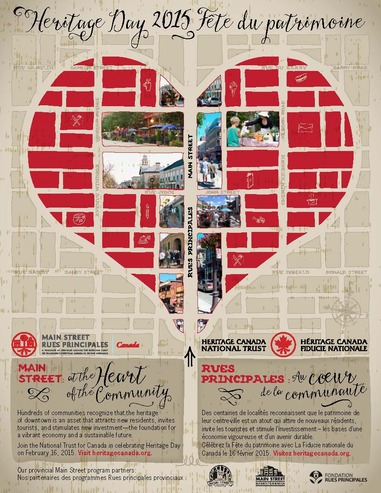 BC's Heritage Week begins with National Heritage Day on February 16th and runs until February 22nd. The theme for 2015 is "Main Street: At the Heart of the Community." VHF has scheduled a series of walking tours and an event at the Commodore that explore this theme.
Find more information about all the events on our Heritage Week page here.
.
Vancouver's Historic Downtown – From Gastown to Hastings Street
Friday, February 20
10 am – 12 pm
$15
Sponsored by the Downtown Vancouver Business Improvement Association
.
Hudson Street – Marpole History
Saturday, February 21
2 – 4 pm
$15
.
Commercial Street – Cedar Cottage Neighbourhood
Sunday, February 22nd
10am – 12pm, $15
.
.
____________________________
.
Backstage Pass: Behind the Scenes at the Historic Commodore Ballroom
.
Join us at one of Vancouver's most respected music venues for a behind the scenes tour and talk with Live at the Commodoreauthor, Aaron Chapman.

Saturday, February 21
10 am – 12 pm
Commodore Ballroom, 868 Granville Street
.
Sponsored by the Downtown Vancouver Business Improvement Association
.
____________________________
.
Shaughnessy Heights: "The Swellest and Most Beautiful Neighbourhood"
With John Atkin
.
In the first half of the year, the protection and management of heritage in the First Shaughnessy neighbourhood and the options for retention of character homes in other areas will be under discussion.
In addition to posting information about this on our Heritage Action Plan web page, VHF and other heritage partners will be offering opportunities to get informed and join the discussions. The first opportunity comes in the form of two special walking tours with civic historian, John Atkin to get more familiar with the First Shaughnessy neighbourhood, ahead of public consultation.With its winding avenues, lush landscape and grand homes, Shaughnessy was originally created and managed by the Canadian Pacific Railway. It is one of Vancouver's most desirable neighbourhoods and happens to be the city's first planned community. On this walk, explore the neighbourhood's heritage value, and examine its complex and intriguing development history while discovering some fabulous architecture.
February 14 & February 26
10 am – 12 pm
$15 (inc. tax)
.
____________________________
.
Evening Lecture: How it all Began: The Story of the Bloedel Conservatory
John Coupar, Vancouver Park Board Chair and son of Charles Coupar the Bloedel Conservatory's first Garden Director, will share the story of the Conservatory. From its envisioning in 1966 to celebrate Canada's approaching 1967 Centennial, to the building of the iconic triodetic dome which houses a large collection of tropical plant species and rare birds, the Conservatory is a unique asset to Vancouver. In retelling its story, Coupar will also look at the broadly supported efforts to save it from demolition and the recently completed restoration.
Tuesday, February 17
7:30 – 9:30 pm.
University Women's Club at Hycroft, 1489 McRae Avenue.