Here is a new word for you~"moquette". Moquettes refer to the thick-pile fabrics used for carpets and upholstery, and if you have travelled in the Transport for London system you are familiar with the fabrics that often cleverly refer to landmarks and stations along the system.How did people go about designing fabrics for public transit seating, and who started it?
Feargus O'Sullivan explores that in this article from CityLab based upon the exhibition at the London Transport Museum, Celebrating Britain's Transport Textile.The best part of this exhibition is the archive, "a new online resource compiling designs and photographs, as well as recorded interviews with designers instrumental in their creation. The results are a rich and wonderfully nerdy archive that has unearthed some forgotten designs, vividly commemorating an aspect of London's appearance that has long been both omnipresent and scarcely noticed."
It is fascinating to look at the patterns and textiles, many that appear very contemporary with lots of allegory to intersections and street design.
O'Sullivan mentions designer Enid Marx who was hired in the 1930's to design fabrics for London buses and the London Underground with the indomitable task of making it all look "fresh at all times". That interest in complete design from the floors to the doors to the seats has set the bar for a designed look other transit systems have tried to replicate.
"Since the 1930s, London Underground's chosen designs have become more muted, their print components smaller…More recently, actual city landmarks such as the London Eye have started appearing on the moquette."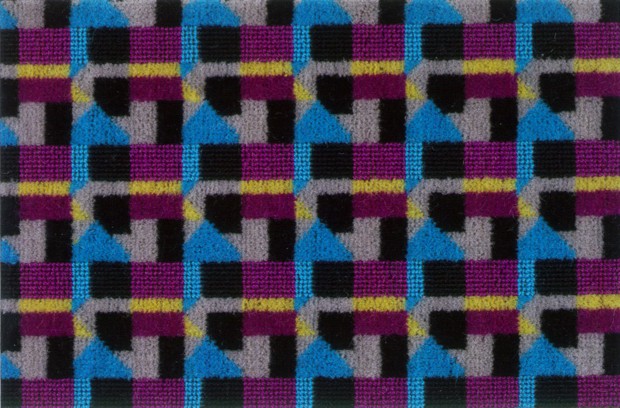 Even today the moquette fabrics are hand-loomed as samples, and then woven at a family owned mill in Great Britain. The BBC has written about Emma Sewell and Harriet Wallace-Jones who are the design team behind the current fabric designs used on Transport for London.
"If you look closely enough, the shapes of London landmarks can be spotted in the geometry of some of the designs. "The nature of our style of weaving, which is 'dobby' weaving, doesn't allow us to create complex shapes, we are restricted to stripes and blocks of colour, plus small-scale patterns. This means that we have to abstract our inspiration sources, which could be anything from a landscape or figurative painting, to a sculpture," says Sewell."
The Moquette Project is an ongoing exhibition at the London Transport Museum.