Scot has some recommended readings (via Kent Lundberg).  
From the Calgary Herald:.
 .
Kiefer MacKenzie lives downtown and gets around using bikes, Calgary Transit or car-sharing services. He loves the urban lifestyle, but he says Calgary's public transportation system limits where he can go and when, and most business in the downtown core close when commuters go home.
That's why MacKenzie is excited about a proposal in Calgary's rapidly growing East Village for a parking-free condo development, which is going to city council for final approval on Monday. The car-free condo may have raised eyebrows in an automobile-loving city when originally proposed, but it appeals to MacKenzie, a 25-year-old senior sustainability consultant, and an increasing number of millennials like him who are embracing a lifestyle with minimal driving. …
The project, put together by development company Knightsbridge and referred to as N3, is the first of its kind in Calgary. It offers no on-site parking for its tenants, and a limited number of visitor parking stalls. Instead, the purchase of a unit comes with a free membership to car-sharing service Car2go with a $500 credit, and a new bicycle. Without the cost of constructing a parkade, units are expected to be offered for a price at least $20,000 lower than other condos in the area.
Even the traditional idea of starting a family in the suburbs holds less appeal for millennials like MacKenzie. He says the East Village, with its proximity to amenities like the Riverwalk, public transit and a forthcoming grocery store, would offer everything he needed. And with N3's price, it would be affordable.
"I know there's a lot outside of this little transit-accessible world, but I feel like I've gotten on OK without missing too much," he said.
.
From CityLab:
.
Every time a new building includes space for cars, it passes those costs on to tenants..
Charting the data on cost, we can see rents climb as the parking options become more complex, and thus expensive for the developer. A low-end rent in a building with no parking comes to $800 a month. Rent in the same unit in a building with the cheapest parking option, surface spots, comes to $1,200—a 50 percent jump. In a building with underground parking, the low-end rent hits $1300, a spike of 62.5 percent.
.
.
Of course, more parking in a building doesn't just mean higher unit rents—it means fewer units, period. Below we chart the rental units that are sacrificed to various parking types. Again, in the no-parking scenario, a building can have all 50 possible units. This time the underground lot actually fares best among the parking options, since it preserves all but 3 units. The surface lot removes 20 potential homes—that on top of whatever commercial development space it might lose on the ground floor.
.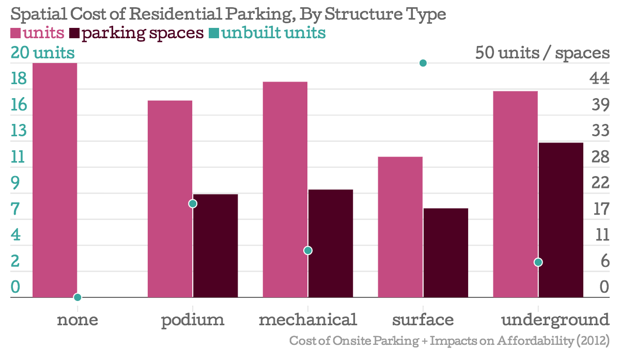 .
So we see how parking (especially surface parking) becomes a scourge on a city. Residential lots and spaces make individual units less and less affordable for tenants. They also result in fewer units as a whole, meaning the supply of housing across the city takes a hit. That too jacks up rents over time, as neighborhoods run out of sites to develop, and families run out of places to live.
Peter makes an important point: in already dense and congested residential areas, parking-free apartments may work for the buyer in terms of affordability but do often create costly external impacts on the nearby community. In the West End in particular, the resident-only on-street parking allocation is, oh, maybe 90%. Why so high you ask, when other residential areas may be more balanced at, say, 50%? Because the residents wanted it that way, and the city rolled over, back in the day. Big mistake, IMHO.

Why do we expect free parking but are prepared to pay for an extra bedroom ?

The core issue of the whole transit problem, both here and other congested cities like Toronto is that car use in both of its states ( parking and driving ) is far too cheap in cities !
If Vancouver charged market rents for valuable street real estate , say $200/month, 50% of the cars would disappear and money for subways and other RAPID transit solutions would be available immediately.

That plan would actually decongest as opposed to this 0.5% sales tax increase for more wobbly buses.

The solution is very easy. Simple raise the price of street parking until supply and demand are in balance. It makes absolutely no sense that we charge property taxes for people to live on private property and charge nothing (or next to nothing) for people to store their cars on public property.

Also referred to as subsidy or vote buying !

FYI: Calgary council unanimously approved that car-parking-free building this week.

They also keep fighting against bylaw changes to make secondary suites (such as basement suites) easier to approve. Currently each application must go before council. The mayor and four other councilors would like to change the process so that secondary suites are automatically allowed in R1 zoning but our suburban councilors seem to think that would lead to the end of the world.

That's a pity. The status quo would lead to more illegal suites, fewer affordable housing options, and a dampened housing market where mortgage helpers are not allowed. I wonder if anyone has counted the growth in the number of "illegal" suites in the burbs recently?

Perhaps some peoe actually prefer single and not dual family housing as that is what they paid for? Not everyone likes higher density or more renters in their neighborhood. A card-Blanche approach does not work well.